About
Business Consultant whose qualification includes a bachelor degree in the field of Mechanical specialized in Automobile & Manufacturing; with expertise working in E-Commerce, Retail, Automotive, Construction, Manufacturing, Supply Chain & Warehousing; Trained on Certified Supply Chain Professional (CSCP) from APICS, USA, Hands on Foundation Certificate in Business Analysis from BCS, UK and Certified Professional for Requirements Engineering (CPRE-FL) from IREB, Germany.
Job Responsibilities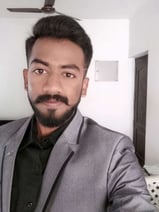 Responsibilities in previous job as a Team Manager and Mentor include providing technical solution and hands-on training on Automobiles and its Sub-Components for Freshers. Preparation of daily and monthly KPI, interpretation and reporting of trends, development of a team, managing it to optimized levels and run the same as an efficient one.
As a Business Consultant, worked for some markable clients include Redington, TVS Electronics, Teems India, Kayman Vaults – Documents Warehouse, Shadhan (Fashion Brand), Ribbons – Universal Loyalty Program where my responsibilities include
Formulation and Development of SOP's.
Implementation and Auditing of developed SOP's.
Working on full development life cycle projects, talking to clients and deploying leading edge solutions.
Delivering Design and Planning sessions for Clients.
Gathering /establishing requirements to enable quotations to be issued.
Where appropriate, travel to client sites to deploy projects and walk through any user feedback or training needs.
Conversing with Clients throughout the project life cycle in addition to internal teams to ensure delivery of said projects.
Mentoring and working with other individuals in a team.
Continually updating technical knowledge and skills by attending in-house and/or external courses, reading manuals and accessing new applications.
Providing assistance in warranty or support cases and act as a Point of escalation.
Working closely with other staff such as designers, developers and account managers to ensure seamless delivery of projects.
Work scenario
MS Word 2016, MS Excel 2016, MS Power point 2016, MS Visio 2016